Don't miss out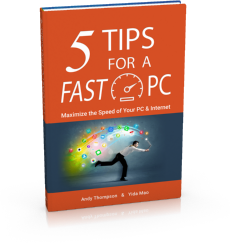 Get a copy of "5 Tips for a Fast PC" when you sign up for our free "PC Tips" newsletter.
Subscribe Now
Knowledgebase

I have downloaded the install file many times, but it does not work, what do I do?
Posted by CompuClever Support Team on 26 October 2011 11:14 AM
Many web browsers and internet provided will store a copy of a downloaded file and every time you go to download it again the program will provide you the file it has stored away. If that file is damaged you will encounter this issue until that stored copy is deleted so you can then download a new copy. In most web browsers this is done by deleting the file cache. In Internet Explorer you would delete this cache by doing the following:
Hold down the Alt key and press T (then release both keys)
Click Internet Options
In the General Tab click Delete
In the panel that appears click Delete Files
When the process completes click OK
You can then download the file again and get a new install file. For other browsers please check their help files for how to delete their file cache. Some Internet Service Providers (ISPs) will include a download accelerator in the web browser they provide, again, please check the help files for instructions on how to remove the file from the accelerator.
---