Don't miss out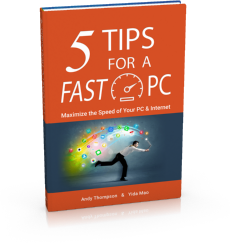 Get a copy of "5 Tips for a Fast PC" when you sign up for our free "PC Tips" newsletter.
Subscribe Now

System Requirements for CompuClever Antivirus Products
Posted by CompuClever Support Team on 13 July 2015 02:35 PM
Make sure that the computer where you plan to install CompuClever Antivirus PLUS meets the minimum system requirements. If the computer does not meet all the minimum system requirements, CompuClever Antivirus will not be installed or, if installed, it will not work properly and it will cause system slowdowns and instability.
You may install CompuClever Antivirus PLUS only on computers running the following operating systems:
Windows XP with Service Pack 3 (32-bit)
Windows Vista with Service Pack 2
Windows 7 with Service Pack 1
Windows 8
Windows 8.1
Windows 10
Before installation, make sure that your computer meets the minimum system requirements.
Note: To find out the Windows operating system your computer is running and hardware information, follow these steps:
- In Windows XP, Windows Vista and Windows 7, right-click My Computer on the desktop and then selectProperties from the menu.
- In Windows 8 and Windows 10, from the Windows Start screen, locate Computer (for example, you can start typing "Computer" directly in the Start screen) and then right-click its icon. Select Properties in the bottom menu. Look under System to see the system type.
Minimum system requirements
1 GB available free hard disk space (at least 800 MB on the system drive)
1.6 GHz processor
1 GB of memory (RAM) for Windows XP, Windows Vista, Windows 7, Windows 8, and Windows 10
Recommended system requirements
2 GB available free hard disk space (at least 800 MB on the system drive)
Intel CORE Duo (2 GHz) or equivalent processor
Memory (RAM):

1 GB for Windows XP
2 GB for Windows Vista, Windows 7, Windows 8, Windows 10
Software requirements
To be able to use CompuClever Antivirus PLUS and all its features, your computer needs to meet the following software requirements:
Internet Explorer 8 or higher
Mozilla Firefox 14 or higher
Chrome 20 or higher
Skype 6.3 or higher
Yahoo! Messenger 9 or higher
Microsoft Outlook 2007 / 2010 / 2013
Microsoft Outlook Express and Windows Mail (on 32-bit systems)
Mozilla Thunderbird 14 or higher
.NET Framework 3.5 (automatically installed with CompuClever Antivirus PLUS if missing)
---