Don't miss out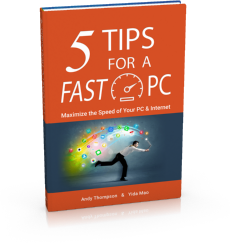 Get a copy of "5 Tips for a Fast PC" when you sign up for our free "PC Tips" newsletter.
Subscribe Now

PC TuneUp Maestro fails to create system backup files, what should I do?
Posted by CompuClever Support Team on 14 October 2015 02:31 AM
PC TuneUp Maestro automatically creates a backup of your system files as a safety precaution before making changes to the registry of a computer. This protects you and ensures that any repairs can be easily restored. If PC TuneUp Maestro generates an error message saying the backup cannot be created that means the System Restore function in Windows is not enabled. To enable the System Restore please do the following:
Right-click "Computer" on desktop and select "Properties"
Click System Protection on the left of the window
Click "Configure" on the pop-up windows
For Windows XP
Uncheck "Turn off System Restore"
For Windows 7
Click the radio button of "Restore system settings and previous versions of files"
For Windows 8 and 10
Click the radio button of "Turn on system protection"
Drag the space scale of Max Usage to 5%~10%
Click "OK"
That will let the program create the backup files.
---